Sponsorship Appeal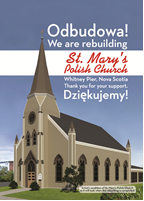 RE-BUILDING ST. MARY'S POLISH CHURCH -- AN APPEAL FOR SPONSORSHIPS
NEWLY LISTED ITEMS FOR SPONSORSHIP (as of April 17) – Thank you to our families, friends, and businesses for considering a sponsorship, either individually or as groups. A permanent plaque will be placed on or close to the applicable item to acknowledge your sponsorship.
ALL ITEMS ON THE FIRST LIST WERE SPONSORED! Thank you so much for the great response, which will help a lot – Dziękujemy bardzo!
These items are now available for sponsorship:
Plinths (the beautiful bases for the arches and columns in the main church area) -- $500 each -- there are 10 of these.
All plinths have been sponsored. Many thanks to:
Elaine Tynski-Shipley and Julia Bennett in memory of John Tynski
Janet and Fred Hawthorne (2 plinths)
Marilyn and Joe Gillis (2 plinths)
Evelyn Cook
Margaret and Maryan Dugandzic
Mary Pierrynowski
Nellie Tynski
Krista Ann Starzomski
Trim around church (interior) -- $12,600 – please note that for this or other items joint or multiple sponsorships are welcomed toward the total required
Window above the altar: $3,500 (remaining to be raised: $2,400) – it will include coloured but not patterned glass (Sponsorship recognition would be on a plaque and not on the window itself.) – Many thanks to Teresa MacQueen and Frances Mei for their sponsorship toward this item! Still remaining to be raised: $2,400.
Sponsorship of St. John Paul II Lane - $18,000 (remaining to be sponsored $15,750) (This is the laneway that will run, as before, along the side of the church and will include parking. The value of the sponsorship is for the paving. The sponsorship will be acknowledged with an appropriate inscription below or near the St. John Paul II Lane sign.) -- Many thanks to Father Rich Philiposki ($1,000), and Tom Urbaniak & Alison Etter ($1,250) Still remaining to be raised: $15,750
Side entranceway -- $5,000 (We expect that this will be much-used – to enter both the church and the hall.)
Drywalling the hall -- $10,700
Flooring for hall -- $18,650
Library and Reading Room -- $10,000 – Many thanks to Aggie Stephenson for this sponsorship!
Children's Play Area -- $2,000 – a small but very nice area near one of the large windows and near the library/reading area for toys, games, crafts, etc. (The sponsorship covers the actual space.) – Many thanks to Anna Wesolkowska for this sponsorship!
PLEASE NOTE: As a working name for funding applications, we have been using "Sala 1050" to describe the back section (future hall, kitchen, reception space, library etc) – because our new church is being completed in an important anniversary year – the 1050th anniversary of the baptism of Poland.