Men of the Deeps in concert with the Choir of St. Mary's Polish Church, July 6th, 2013
STO LAT! MEN OF THE DEEPS IN CONCERT
WITH THE CHOIR OF ST. MARY'S POLISH CHURCH
>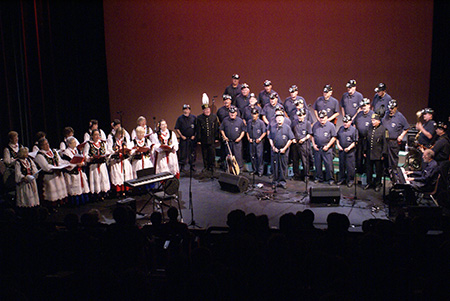 .
It was a moving experience.

The St. Michael's Polish Benefit Society -- which has been part of our parish since the beginning -- hosted, in cooperation with Cape Breton University, an emotionally charged STO LAT! (100 Years) Tribute, featuring the Men of the Deeps in concert with the Choir of St. Mary's Polish Church, the only Polish-language choir in Cape Breton.

About 300 people filled CBU's Boardmore Playhouse to witness a unique program of songs about faith, heritage, the immigrant experience, and perseverance through adversity, as well as inspiring Polish hymns, visual images, and original poetry readings tracing the history of Polish settlement in Cape Breton and St. Mary's Polish Parish.

One of the highlights was when St. Mary's Polish Choir soloist Jean Annette White joined Men of the Deeps soloist Nipper MacLeod for Working Man, the first time the Polish language was used for the famous song.
Polish miners' uniforms were presented by Polish Consul General Andrzej Szydlo -- a high honour -- and were worn at the concert by Gary Micholsky and Gordon Sherriff of Men of the Deeps. Gary told the story of his grandfather, a coal miner in Poland, and about his own family's association with St. Mary's Polish Parish.

It is customary for Polish miners to wear their ceremonial uniforms for special occasions, such as St. Barbara's Day (Dec. 4 - patron saint of miners). Each component of the uniform has a special meaning. The brush used for cleaning blasting holes became the decorative, symbolic feather on the headpiece of the uniform. The short cloak evokes the cape protecting the miner from water. Pockets were used to hold the fuses and flints necessary in blasting. There are special insignia to show a miner's function. 

The uniforms will be displayed at the St. Mary's Polish Parish Centenary Historical Exhibit, which opens on Thursday, July 25, at the Polish Village Hall in Whitney Pier.
In his remarks, Consul General Szydlo praised Cape Bretoners for their tenacity and solidarity. He expressed admiration that the local Polish community has held onto its roots over generations while contributing much to the region and to Canada.
St. Mary's Polish Parish is marking its centenary this year with a series of events, activities and service projects.