Parish Historical Exhibit and Conference Program 2013
SATURDAY, JULY 27, 7 P.M.
Dinner Theatre, Polish Village Hall (Sold Out)
St. Mary's Polish Parish presents:
The Odyssey of the Polish Treasures,
adapted from Dr. Al Balawyder's book of the same title.
In 1939, the Polish state treasures in Kraków's Wawel Castle were evacuated
and began a long trek, along with refugees from various nationalities. They
were eventually transported to Canada, under the watch of Józef Polkowski
and Stanisław Zaleski. The treasures were dispersed and hidden for their own
protection and for fear of the post-war Polish Communist government. The
treasures were finally returned to Poland when a rare consensus was reached
in 1961 between the two governments, as well as the Polish government-inexile
in London, and Church officials.
Our adaptation includes a Cape Breton twist and some add-on characters!
CAST
Directed by Josie Sobol, with the participation of our Pogoria
Polish Folk Ensemble, directed by Shari McKay
Narrator ("Babcia") – Patricia Paruch
Polkowski – Bob Lewandowski
Zaleski – Tom Urbaniak
Szpiegowa (Communist spy who begins her infiltration operation
at the start of the war, even before a Communist government
takes power in Poland) – Maura Lea Morykot
Communist agents – Ken Chisholm, Michael Melski, Bernie LaRusic
Refugees/St. Mary's Polish Church parishioners (late 1940s and present-day) – Joe Gillis, Marilyn Gillis, Janina MacCormack, Shari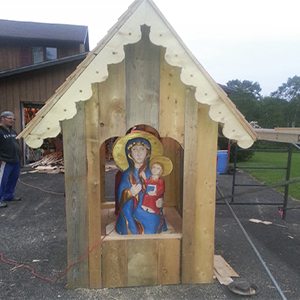 McKay, Shauna McKay, Ursula Melski (head of the Whitney Pier Polish welcoming committee), Joe Ryba, Patricia Ryba, Peggy Ryba, Geneviève Wawrzyszyn, Janusz Wawrzyszyn
Father Leo O'Connell (Pastor of St. Mary's Polish Church, 1929-1969) – Father Paul Murphy
Canadian officials – Joe Ryba, Joe Gillis
"The Donald" (self-styled Cape Breton emissary) – Todd Hiscock

SUNDAY, JULY 28, 9:30 A.M.
Mass at St. Mary's Polish Church (21 Wesley St.), followed by a blessing of
the new kapliczka (traditional roadside shrine) at the bottom of Bryan St.,
near the Whitney Pier Heritage Trail. We will be joined by representatives
of Holy Ghost Ukrainian Catholic Church. The kapliczka was commissioned
by the Sydney Architectural Conservation Society with input from various
parishioners. It followed a design workshop with Krista Ann Starzomski's
art students at Whitney Pier Memorial Junior High School. The shrine was
carved by Liam Tromans. It includes Our Lady of Częstochowa, St. Nicholas,
and "Peace be with you" in three languages.