Biuletyn / Bulletin – 6-ego pażdziernika 2013 roku / October 6, 2013
Parafia p.w. Narodzenia Najświętszej Maryi Panny
ST. MARY'S POLISH PARISH
21 Wesley St., Sydney, NS, B1N 2M5
Tel.: (902) 564-4847
www.StMarysPolishParish.ca
Witamy wszystkich! Welcome to all!
We are pleased to share our faith and rich traditions with the whole community.
Celebrating 100 years of faith and service (1913-2013)
PROBOSZCZ/PASTOR:  Father Paul Murphy 564-4355

MSZY/MASSES: Sunday at 9:30 a.m.
Wednesday at 4:00 p.m. followed by Novena to Our Lady of Częstochowa. Praying of the Rosary begins prior to Mass at approximately 3:35 p.m.
SPOWIEDŹ:  Godzina do uzgodnienia z księdzem.
SACRAMENT OF RECONCILIATION: Anytime upon request to the priest.
SAKRAMENT CHRZTU ŚWIĘTEGO:  Prosimy o kontakt z księdzem conajmniej na 1 miesiąc przed planowaną datę.
SACRAMENT OF BAPTISM: Please contact the priest at least one month in advance.

SAKRAMENT MAŁZEŃSTWA:   Zapowiedzi powinny być ogłoszone conajmniej na 6 miesięcy przed planowaną datę.
SACRAMENT OF MATRIMONY: Intentions must be announced at least six months in advance.
______________________________________________________________________________
Dwudziesta siódma Niedziela zwykła / 27th Sunday in Ordinary Time
TODAY'S MASS INTENTION is for the Kyte family. Eternal rest grant onto them O Lord, and may perpetual light shine upon them. Wieczny odpoczynek racz Im dać Panie, a swiatłość wiekuista niechaj Im świeci na wieki wieków. Amen
TODAY'S RESPONSORIAL PSALM: Słysząc głos Pana, serc nie zatwardzajcie. ["Hearing the voice of the Lord, do not harden your hearts"] [Pronunication: Sw-ish-oh-nts / gw-oh-s /Pa-na /s-e-rts / nee-e /za-tv-ar-dz-a-y-ch-ee-e]
The Vigil Candle this week is for Pope Francis' prayer intention for October—people who are in despair and feeling crushed by life.
Eucharistic Minister for today: Janet Hawthorne
Ushers for collection today: Michael Melski, Robert Melski Sr.
______________________________________________________________________________
NASTĘPNY TYDZIEŃ / THE WEEK AHEAD
Wednesday, October 9, 4:00 p.m. Mass followed by Novena to Our Lady of Częstochowa. Praying of the Rosary prior to Mass beginning at approximately 3:35 p.m. The Mass intention will be for Ray Kiley offered by Patsy & children.
Sunday, October 13, 9:30 a.m. The Mass intention will be for Thelma Murphy offered by Jean Annette & Richard White.
Lectors: Stephanie Black, Andrzej Cebula
Eucharistic Minister: Janet Hawthorne
Altar Servers: Brianna, Noah, Matthew
Ushers: Bernie LaRusic, Steve Melnick
Greeters: Victoria Aucoin, Stephanie Black
Altar Society volunteers for October: Janet Hawthorne, Evelyn Cook, Anne Marie Campbell, Jim Campbell                      
Collection receipts for Sunday, September 29:  $1136.40 (broken down as follows: $615.00 weekly contribution, $195.00 monthly supplementary contribution, $42.55 candles, $53.70 loose, $200.00 fuel, $230.00 building fund. Not included in the previous total: $55.00 Needs of the Canadian Church. Thank you very much for your support of St. Mary's Polish Parish. Dziękujemy serdecznie!
MASS CARDS/VIGIL CANDLE: Contact Tom Urbaniak (563-1226)
IN MEMORIAM DONATION: To make an In Memoriam donation, please pick up one of the IMO cards/St. Mary's Polish Church envelopes at the back or speak with Shauna McKay. These will be acknowledged in the bulletin. We also welcome donations to the Building Fund, as we continue with improvements and repairs.
"IMIENINY" (NAME DAYS) FOR THE COMING WEEK. Help to maintain a longstanding Polish Catholic tradition by acknowledging relatives, friends, and colleagues who are celebrating their "name day," corresponding with the feast day of a saint of the same name.  Where there is more than one saint of the same name who has been assigned a day, your "name day" is the one closest to your birthday. It is customary in the Polish tradition to acknowledge the name day of a relative or friend:
October 6: Artur, Bronisław, Bronisz, Emil, Roman
October 7: Justyna, Marek, Maria, Rościsława, Stefan        
October 8: Bryda, Brygida, Laurencja, Marcin, Wojsława
October 9: Bogdan, Jan, Ludwik
October 10: Franciszek, Lutomir, Tomił
October 11: Aldona, Dobromiła, Emil, Emilian, Emiliusz, Maria, Marian
October 12: Maksymilian, Witold
October 13: Daniel, Edward, Mikołaj, Siemisław
______________________________________________________________________________
OGŁOSZENIA / ANNOUNCEMENTS
RESPONSES IN POLISH WHEN THE GOSPEL IS PROCLAIMED: Father Paul is now introducing and concluding the Gospel reading in Polish.
In introducing the Gospel, the celebrant (priest) says, "Słowa Ewangelii według świętego …"
We respond: "Chwała Tobie, Panie" [Pronunciation: "H-v-a-wa / toe-bee-e / Pa-nee-e"]
In concluding the Gospel reading, the celebrant says, "Oto słowo Pańskie."
We respond: "Chwała Tobie, Chryste." [Pronunciation: "H-v-a-wa /toe-bee-e / Hris-t-e"]
PRAYING OF THE ROSARY – Every Wednesday before the 4 p.m. Mass (beginning at approximately 3:35 p.m.).
CATECHISM AND POLISH CULTURAL CLASSES, led by Krista Ann Starzomski, will resume the first Sunday after Thanksgiving (Sunday, October 20) and continue until Victoria Day weekend.
WELCOMING PEOPLE (BACK) TO CHURCH: As part of our outreach, letters of welcome and introduction from Father Paul will be sent to former parishioners or people who might wish to join us. We are blessed to have a warm and welcoming parish, journeying together in faith and service, with a unique identity and a living heritage, where people genuinely care about each other. If you know someone who might appreciate a letter, please share his or her name (and mailing address if possible) with Marjorie Ardelli, Secretary of the Rada -- 794-2910; sheep@syd.eastlink.ca
PLEASE NOTE: There will be no lunch after Mass today because of the special lunch we had last Sunday. Thank you to everyone who contributed food-bank items last week.  These have been delivered to Loaves and Fishes. Next Sunday after Mass, we will have a little gift for each family in the parish—a Thanksgiving pumpkin.
RECENT "IN MEMORY OF" DONATIONS:
IMO Helen Krasowski Fagan from Dorothy Rozeluk, from Mary Pierrynowski, from Aggie & Peter Stephenson.
IMO Henry Pierrynowski from the Reid family and from the Mosher family.
PARISH CENTENARY COOKBOOKS AND T-SHIRTS ARE STILL FOR SALE: Please speak with Shauna McKay. These make great gifts!
ADDITIONAL COPIES OF OUR NEW EDITION BOOK PRZEZ POKOLENIA: PRAYERS AND CUSTOMS OF ST. MARY'S POLISH CHURCH are available for purchase ($10.00)
EXHIBIT EXTENDED UNTIL THE END OF OCTOBER: At last Sunday's meeting of the St. Michael's Polish Benefit Society, it was decided that due to additional requests by visitors to see the Parish Centenary Exhibit, the exhibit would be extended until the end of October, by which time the exhibit area will be required for other bookings.  So we would be grateful if the items you lent could be kept in the hall a little longer. Dziekujemy uprzejmie!'
DIOCESAN RENEWAL CONGRESS (OCT. 6-9): Please pray for a productive and spirit-filled congress.
ST. FAUSTINA KOWALSKA (FEAST DAY: OCTOBER 5): A Polish nun, visionary, and mystic (1905-1938), St. Faustina (Faustyna) recounted powerful spiritual dialogues with Jesus, including conversations about the Divine Mercy devotion. She also directed the painting of the first Divine Mercy image. She initially had trouble gaining acceptance into a convent because she could not pay her own way. But she quickly distinguished herself with an extraordinary work ethic and piety. By 1930, many of her meditations were focused on the Divine Mercy. Before her death, St. Faustina predicted the horrors of war that were to occur. The Divine Mercy devotion became an inspiration to the oppressed Poles in their occupied country, and the devotion began to spread around the world. After the war, the Congregation of the Sisters of Divine Mercy was formed to carry on St. Faustina's work and her example of deep faith.
POPE FRANCIS HAS DESIGNATED DIVINE MERCY SUNDAY IN 2014 (APRIL 27) AS THE DAY FOR THE CANONIZATION OF BLESSED POPE JOHN PAUL II AND BLESSED JOHN XXIII.
ADULT RELIGIOUS EDUCATION PROGRAM: Holy Redeemer Parish, Whitney Pier, will again host a ten-week DVD program for adults. This year we are presenting "The Bible: from the Old testament through to the New – a history." The program will be held on Thursday evenings, beginning October 17, 6:30pm, in the downstairs meeting room at Holy Redeemer Church. No charge and all are welcome.
FEAST OF ST. FRANCIS OF ASSISI (OCTOBER 4): Pope Francis said the following in his homily at Assisi on Friday: Harmony and peace! Francis was a man of harmony and peace. From this City of Peace, I repeat with all the strength and the meekness of love: Let us respect creation, let us not be instruments of destruction! Let us respect each human being. May there be an end to armed conflicts which cover the earth with blood; may the clash of arms be silenced; and everywhere may hatred yield to love, injury to pardon, and discord to unity. Let us listen to the cry of all those who are weeping, who are suffering and who are dying because of violence, terrorism or war, in the Holy Land, so dear to Saint Francis, in Syria, throughout the Middle East and everywhere in the world.
THE RENOVATED AND REFURBISHED POLISH VILLAGE HALL is a comfortable, well appointed, modernized venue for events large and small. Please consider renting the hall for your events. Please call 564-8494.
PLEASE CHECK OUT OUR ON-LINE "VIRTUAL TOUR" AND AN 8.5 MINUTE PARISH WELCOME VIDEO ON OUR WEBSITE:  www.stmaryspolishparish.ca

PAPAL BLESSING PRESENTATION: Pictured below, at last Sunday's Mass (September 29), Father Paul, assisted by Marjorie Ardelli of the Rada Duszpasterska (Pastoral Council), presents Pope Francis' Centenary Blessings to St. Mary's Polish Parish to Michael Melski and Robert Melski Sr., representing the Executive of the St. Michael's Polish Benefit Society. As the Society played a key role in establishing the parish a century ago, the Society was now charged with ensuring the Blessing is prominently displayed in the church. (Photo by Chris Shipley.)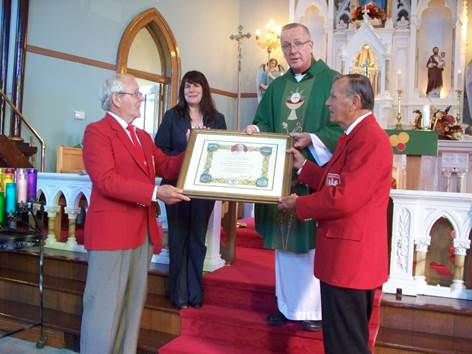 Wishing you a blessed week! Bóg zapłać!
______________________________________________________________________________
OUR CLOSING HYMN – A TRIBUTE TO ST. FAUSTYNA
COINCIDING WITH HER FEAST DAY, OCTOBER 5


Blogoslawiona jesteś Faustyno
Wzorem jesteś świętości
Błogosławiona jesteś Faustyno
W ramionach Bożej miłości
Jezus ciebie wybrał
Jako swe narzędzie
Byś głosiła wszystkim
Jego miłosierdzie
Błogsławiona jesteś Faustyno …
Wierna jego woli
Nie myśląc o sobie
Zyciem wyśpiewałaś
Jezu, ufam tobie
Błogosławiona jesteś Faustyno …

Blessed are you, Faustina
A model of holiness
Blessed are you, Faustina
In the arms of God's love
Jesus selected you
As his instrument
To proclaim to all
His mercy
Blessed are you Faustina …
Faithful to His will
Not thinking about yourself
With your life you sang out
"Jesus, I trust in you"
Blessed are you, Faustina …
______________________________________________________________________________

TODAY'S HYMNS:
Entrance: Zawitaj Królowo różańca świętego (Greetings, Queen of the Holy Rosary) – p. 197 in the coil-bound hymnal
Offertory: Z Rąk Kapłańskich (From Priestly Hands) -- #16
Communion: Bądźże pozdrowiona [Be Greeted and Blessed]
Post-Communion: Bądź uwielbiony Panie (Be Worshiped, Father)
Closing Hymn: Błogosławiona Jesteś, Faustyno (Blessed Are You, Faustina) – please see the words in the bulletin insert.