Biuletyn / Bulletin – 14-ego lutego 2016 roku / February 14, 2016
Parafia p.w. Narodzenia Najświętszej Maryi Panny
ST. MARY'S POLISH PARISH
21 Wesley St., Sydney, NS, B1N 2M5
(meeting until our rebuilding at Holy Redeemer Church
with thanks to our friends of Holy Redeemer Parish)
Tel.: (902) 564-4847
www.stmaryspolishparish.ca
Witamy wszystkich! Welcome to all!
We are pleased to share our faith and rich traditions with the whole community.
Established in 1913. Our second century of faith and service … WE WILL RISE AGAIN
PROBOSZCZ/PASTOR:  Father Paul Murphy 564-4355

MSZY/MASSES: Sunday at 9:30 a.m. (temporarily at Holy Redeemer Church)
Wednesday Masses on hold until we rebuild our church.
Novena to Our Lady of Częstochowa will now be said before Sunday Masses.
SPOWIEDŹ:  Godzina do uzgodnienia z księdzem.
SACRAMENT OF RECONCILIATION: Anytime upon request to the priest.
SAKRAMENT CHRZTU ŚWIĘTEGO:  Prosimy o kontakt z księdzem conajmniej na 1 miesiąc przed planowaną datę.
SACRAMENT OF BAPTISM: Please contact the priest at least one month in advance.

SAKRAMENT MAŁZEŃSTWA:   Zapowiedzi powinny być ogłoszone conajmniej na 6 miesięcy przed planowaną datę.
SACRAMENT OF MATRIMONY: Intentions must be announced at least six months in advance.
______________________________________________________________________________
Pierwsza Niedziela Wielkiego Postu / First Sunday of Lent
TODAY'S MASS INTENTION is for Antoni Nowak offered by Jancia & Bernie LaRusic. Wieczny odpoczynek racz Mu dać Panie, a swiatłość wiekuista niechaj Mu świeci na wieki wieków. Amen
Eucharistic Minister for today: Marilyn Gillis
Ushers for collection today: Robert Melski Sr., Larry Gniewek
______________________________________________________________________________
NASTĘPNY TYDZIEŃ / THE WEEK AHEAD
WEDNESDAY MASSES are on hold while we rebuild. Please note that Father Paul leads the Novena to Our Lady of Czestochowa every Sunday before Mass (starting at about 9:10 a.m.). Copies of the Novena are at the back of the church.
Sunday, February 21, 9:30 a.m. The Mass intention will be for Kimberly Crane offered by Shirley Ardelli & family.
Lectors:  Stephanie Melnick Black, Elaine Tynski-Shipley                                                                   
Eucharistic Minister: Suzanne Campbell
Altar Servers:  James Campbell, Anthony, James Clarke
Ushers: Tony Gniewek, Toni LaRusic
Greeters: Peggy Ryba, Joan Mosher
Collection receipts for Sunday, February 7: $3709.00 (broken down as follows: $1819.00 general collection including $825.00 for fuel, $1305.00 rebuilding fund, $585.00 India Relief). Thank you very much for your generous support of St. Mary's Polish Parish. Dziekujemy bardzo.
MASS CARDS: To reserve Mass Intentions please call Carolyn Ardelli-Kiley 902-539-1725.
IN MEMORIAM DONATION: To make an In Memoriam donation, please speak with Shauna MacKay. These will be acknowledged in the bulletin. Building Fund contributions will go toward the new church. To contribute to the Rebuilding Fund, if you do not have an envelope, you can write on your regular envelope or cheque "Designated to the Rebuilding of St. Mary's Polish Church."
"IMIENINY" (NAME DAYS) FOR THE COMING WEEK. Help to maintain a longstanding Polish Catholic tradition by acknowledging relatives, friends, and colleagues who are celebrating their "name day," corresponding with the feast day of a saint of the same name.  Where there is more than one saint of the same name who has been assigned a day, your "name day" is the one closest to your birthday. It is customary in the Polish tradition to acknowledge the name day of a relative or friend:
February 14: Józef, Konrad, Krystyna, Lilian, Liliana
February 15: Georgina, Jordan, Józef, Klaudiusz
February 16: Bernard, Dan, Danuta, Julianna
February 17: Donata, Franciszek, Julian, Konstanty, Łukasz
February 18: Albert, Alberta, Krystiana
February 19: Arnold, Henryk, Konrad
February 20: Leon
February 21: Eleonora, Feliks, Teodor
______________________________________________________________________________
OGŁOSZENIA / ANNOUNCEMENTS
POLISH LANGUAGE CLASSES: Polish classes will be starting again at the beginning of March. The first series of classes will be six weeks for beginners, geared to adult and teen learners. Edyta Baczyk will lead a weeknight and a Saturday afternoon class, and participants can choose one (or attend both if they wish). Before we advertise publicly, we would like to know what weeknight and what time on Saturday afternoon might work best for our parishioners. So if you would like to take the Polish classes, we would be most grateful if you could speak today with Edyta Baczyk (edytax@wp.pl; 902 304 4757) or Tom Urbaniak (tom_urbaniak@cbu.ca; 902-563-1226) There have been very positive reviews from the previous classes. It's fun and non-intimidating. For this upcoming series of classes, no previous experience with the Polish language is expected.
PIEROGI SAMPLING EVENT FUND-RAISER: This will be a rebuilding fund-raising event during the Easter season (after Lent). There will be an announcement before Mass about a short meeting either today or next Sunday for anyone who would like to help out. Thanks so much! Dziekujemy bardzo!
THANK YOU: Thank you for being so generous with India Relief contributions for Father Raj's home region (reported in the collection stats above – received in envelopes marked "India Relief") and also last week's food drive for Loaves and Fishes.
REBUILDING UPDATE: The cross, which was made by students at Nova Scotia Community College, will be put up this week. The caps went on the side spires this past week (see photo below). Lots of work continues inside. The Rada has asked architect Gary Hanley for additional flooring samples, as we heard from fellow parishioners during lunch last Sunday that the front entrance and nave flooring samples do not match well.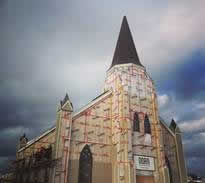 REBUILDING FINANCES - A QUICK OVERVIEW:
***REBUILDING COSTS (rounded to nearest thousand dollars):
Main church and unfinished hall back section (Phase 1) -- $1,358,000
(this is the latest projection – please see more detailed breakdown of costs distributed at parish lunch on February 7)
Finish the hall back section once we've moved into the main church (Phase 2) -- $202,000
Contingency for professional fees that might not be covered under "extensions of coverage policy" -- $10,000
TOTAL PROJECTED COSTS (Phase 1 & 2) -- $1,570,000
***REBUILDING MONEY THAT IS AVAILABLE TO US NOW:
Funds from insurance (capped policy) -- $1,288,000
Rebuilding Fund (donations designated to rebuilding, fund-raising events) -- $110,000
Building Fund (regular "in memory of" donations) -- $27,000                                
(which would still leave a $10,000 cushion in the Building Fund for repairs, emergencies, etc)
TOTAL FUNDS AVAILABLE NOW -- $1,425,000
***AMOUNT THAT WE STILL NEED TO RAISE:
(Total Projected Costs of $1,570,000 minus Total Funds Available Now of $1,425,000) =  $145,000
RECENT IMO ("IN MEMORY OF") CONTRIBUTIONS TO THE (RE)BUILDING FUND:
IMO Walter Aitkens from Joan Mosher

SHARING OUR FAITH TRADITIONS AND POLISH CULTURE WITH WHITNEY PIER YOUTH CLUB: At the time of writing, Peggy Ryba, Ursula Melski, Catherine Tucker, and Edyta Baczyk were scheduled to do a workshop (including cooking) yesterday afternoon. Many thanks to them!
CARE COMMITTEE: Several parishioners have suggested a Care Committee so that no one who is homebound or in the hospital or having a difficult time is overlooked for a card, visit, a helping hand, etc. As a parish, we care for each other and the people around us, and we want that to always be important to who we are. We will have a short meeting after Mass on Sunday, February 28, in the O'Connell House for anyone who might like to be part of a Care Committee.
GORZKIE ZALE - LENTEN LAMENTATIONS: "The Gorzkie Zale [gosh-geh-zahl-leh] began in Warsaw's Holy Cross Church during the 1700s. The devotion incorporates prose and verse, chant and reading, prayer and meditation, inviting participants to reflect on the mystery of Christian redemption, the Passion and death of the Christ. This deep appreciation for the Passion is seen in the most popular Polish image of Christ, Chrystus Frasobliwy, the so-called "sorrowing Christ," which depicts Christ in the Garden, bent in prayer and sorrow. The Lamentations highlight the very emotional nature of Polish spirituality, inviting a personal identification with the Suffering Lord and His Mother. The devotion is most often preceded by Benediction and chanted kneeling before the Blessed Sacrament."  Many Poles know the texts of the entire three-part cycle by heart.
Source: annhetzelgunkel.com/easter/eastgz.html Note: The Gorzkie Zale are printed in our parish's book Przez Pokolenia: Prayers and Customs of St. Mary's Polish Church.
At our parish lunch on March 6, we will have an overview of words and traditions associated with Gorzkie Zale.
Please note that Holy Redeemer has a Lenten Holy Hour with Stations of the Cross each Sunday during Lent at 2:30 p.m.
THE PLACE OF ST. VALENTINE IN THE CHURCH AND IN THE POLISH TRADITION: Very little is known about St. Valentine, and there may be more than one saint of the same name. The "Martyr Valentinus who died on the 14th of February on the Via Flaminia close to the Milvian bridge in Rome" still remains on the official list of saints for local veneration. When the General Calendar for universal liturgical veneration was revised in 1969, St. Valentine's name no longer appeared. In Poland, St. Valentine is the patron saint of the Archdiocese of Prezemysl. In the Polish tradition, St. Valentine's patronage has been associated less with couples, marriages, and love, and more with people suffering from serious illness or restrictive conditions, particularly psychological illnesses and epilepsy
POLISH LANGUAGE "POP-UP" TUTORIAL – For St. Valentine's
SERCE  (Heart) 
KOCHAM CIE (I love you)
CZEKOLADKI (chocolates)  
KWIATY (flowers)
TO CONTRIBUTE ON-LINE TO OUR REBUILDING, PLEASE GO TO OUR PARISH WEB HOME PAGE (www.stmaryspolishparish.ca) and please click the link to our Canada Helps donation page. It's a secure system and you'll receive your charitable tax receipt promptly. Thanks for your support! Please spread the word.
REBUILDING FUND ENVELOPES are at the back of the church. Thank you for your support.
REBUILDING FUND CONTRIBUTIONS: Building Fund contributions will go toward the new church. To contribute to the rebuilding if you do not have an envelope, you can also write on your regular envelope or cheque "Designated to the Rebuilding of St. Mary's Polish Church.". Donations can also be made by regular mail: St. Mary's Polish Parish 21 Wesley St. , Sydney, N.S. B1N 2M5. We still need to raise about $150,000 to complete Phase 2. Thank you so much for your support.
THE RENOVATED AND REFURBISHED POLISH VILLAGE HALL is a comfortable, well appointed, modernized venue for events large and small. Please consider renting the hall for your events. Please call 564-8494.
PLEASE CHECK OUT OUR ON-LINE "VIRTUAL TOUR" AND AN 8.5 MINUTE PARISH WELCOME VIDEO ON OUR WEBSITE:  www.stmaryspolishparish.ca
Życzenia na miłego nowego tygodnia / Wishing you a blessed week! Bóg zapłać!
______________________________________________________________________________
TODAY'S HYMNS: Unavailable
Entrance:
Offertory:
Communion:
Post-Communion:
Closing: